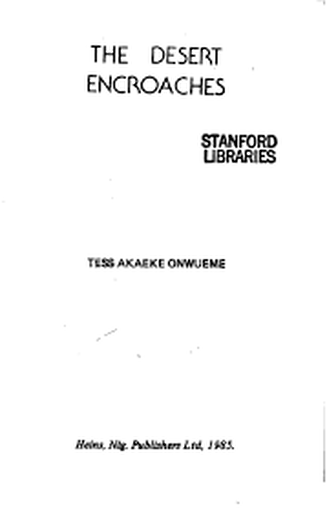 About
The Desert Encroaches won the 1985 Association of Nigerian Authors Drama Prize.
Behold the global forest! Altars and Shrines in Smoke. Dust. War cries in paradise as the smaller animals (zoned to the South/East by the huge animals of the North/West sitting on them and afflicting them with chronic burdens of poverty, pollution with escalating stockpiling of nuclear weapons to endanger their entire environment/land for so long) slowly mobilize and erupt into discordant tunes of freedom and justice in the dark until the Tortoise leads and provokes their voices to swell with harmony to jolt the mighty!
The Desert Encroaches is a drama staging the Environment/Green Revolution with allegories of (in)justice in a global forest dangling on the brink with stock-piles of nuclear weapons amid massive hunger, poverty and ignorance.