Africa's Best Female Playwright: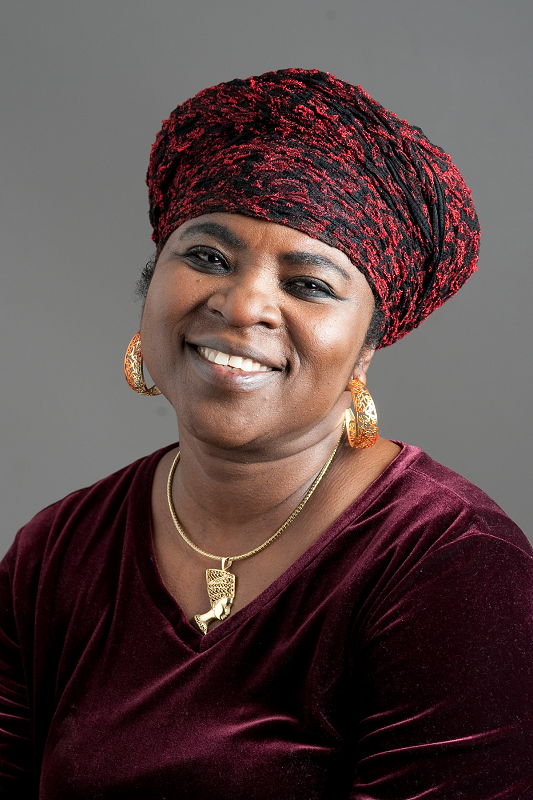 Nigerian-born playwright and Nobel Prize in Literature nominee for 2016, Tess Onwueme rose to prominence writing plays about social justice, women, culture and the environment.
In 2010, she became the eminent Professor of Global Letters at University of Wisconsin- Eau Claire. She has won several international awards, including the Fonlon-Nichols award, the Phyllis Wheatley/Nwapa award for outstanding black writers, the Martin Luther King, Jr./Caeser Chavez Distinguished Writers Award, the Distinguished Authors Award, and the Association of Nigerian Authors Drama Prize which she has won for her plays The Desert Encroaches (1985), Tell It To Women (1995), Then She Said It (2003) and Shakara: Dance-Hall Queen (2006). Among her other award-winning works are: The Missing Face (2002), No Vacancy (2005), Legacies (1989), The Broken Calabash (1984), The Reign of Wazobia (1989, 2014), Why the Elephant Has No Butt (2000), and What Mama Said (2004).
In 2007 she was appointed to the US State Department Public Diplomacy Speaker/Specialist Program for India. The mother of five children whose lifework is officially housed in the UW System Archives following the 2014 Declaration of a Proclamation in her honor by the Wisconsin State Senate, Dr. Onwueme is highly celebrated as a groundbreaking pioneer female dramatist acclaimed by notable writers and scholars around the world.
Tess Onwueme: Early Life & Education:
She was born to the Akaeke family in Ogwashi Ukwu, present-day Delta State, Nigeria. She attended Mary Mount Secondary School, Agbor, and it was while she was in her third year in secondary school that "Poetry found her roaming the world of learning, and would not leave her, thenceforth." Her creativity grew, offering her the safe space and unique communal home to voice and break her silences. It would blossom into the flourishing drama universe that's engendered and marked Tess Onwueme's enduring place and seminal contributions to contemporary World Literature and Drama. At 19, she got married shortly after her secondary education—and at 28, was already the young mother of five children, while also attending the University of Ife (now OAU) where she graduated top of her class with both the Overall Best Performance and the Faculty Prize for the 1979 BA/BSC degree examinations. In 1982, she earned an MA in Literature degree from the same institution where she'd become a teaching faculty member from 1980. Her family's relocation for new teaching positions at FUTO in the far away Owerri eastern part of the country, led the young mother and academic into completing and earning her PhD in African Drama from the University of Benin. The remarkable feat of her rare accomplishments and success in this regard was not missed by the prevailing media/press highlights, exemplified by the front-page news caption: Tess Onwueme: Mother of Five Bags a Ph.D. in English! (National Concord, Monday, February 1, 1988).
Dr. Tess Onwueme combined her academic teaching positions at FUTO and Abia State University, Okigwe, where she served as a Senior Lecturer. In that period, too, Tess Onwueme initiated and directed the FUTO Theatre Troupe––thus becoming the first woman in Nigeria (and maybe Africa!) to pioneer and manage an active popular theatre troupe that received invitations to perform at the National Theatre in Lagos, and also toured major cities in the country for performances of her plays. The National Theatre stage production of her play, The Broken Calabash was especially popular, leading the National Television Authority (NTA) to broadcast, nation-wide, their featured film adaptation of the drama for the Nigerian Independence Silver Jubilee Celebration in October 1985.
In 1989, Tess Onwueme made history, again, when she won the 1989/90 Martin Luther King, Jr. Caesar Chavez Distinguished Authors award, following the 1988 stage productions of her award-winning play, The Desert Encroaches in New York, and The Broken Calabash in Detroit, respectively. These significant American stage features of her drama not only opened the doors of America to her with the accompanied university teaching position, but also the opportunity for permanent residence in America with her five young children that she brought with her and had to raise as a single parent in the American new world/ home.