The State Of My Art, Scholarship, By Onwueme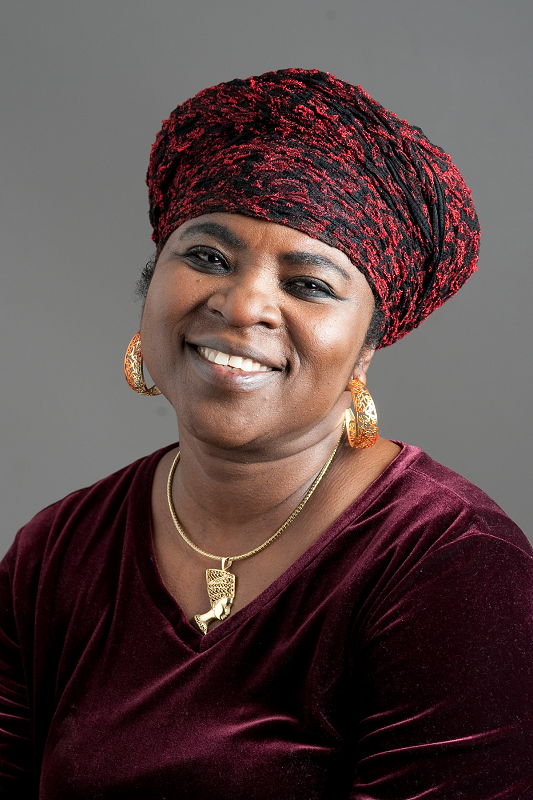 US-based Nigerian multi-award winning writer, Tess Onwueme, was recently appointed University Professor of Global Letters at the University of Wisconsin, USA. Here she shares her story with ANOTE AJELUOROU. Excerpts:
Could you share in some detail what occurred to you when you got the news of your recent elevation?
On a much lighter note, I'd confess that the daunting honour has left me sweetly "flabber-whelmed". It's been at once exhilarating, humbling, and sobering ––making me feel 10 times taller than I've ever been in my entire life. But it has also imposed on me a certain unsettling alchemy of hope and faith and fear and trepidation romping inside. Suddenly, I feel like a grown up girl, and yet, with a lot more room to grow bigger and taller, as I mount the world stage in this very special Call to Duty. But it's not without costs. For I'm acutely aware of the heavy weight of expectations that accompany such glowing laurels.
Like a naked Diva, I sense my own vulnerabilities now from this emergence in the searing light with the glare of the spotlight, at once, illuminating and imposing its own responsibilities. I must admit that I feel striped of my long cherished cloak of privacy and innocence, as the probing eyes (of the media with the international academy and public) brand me with the odd mix of flickering fear and pride and daunting affirmation of this given cause that I must champion.
Now that I've been officially hired to serve the role of Solicitor/Advocate for the oppressed with the "unheard," that I project in my work, for the rights of the many (who have no power, no place, and no voice to claim/assert their dignity and identity lost, stolen, or denied), I know that I've joined the elevated company of tested global writers and seekers who deploy their creative talent to work for Truth and Justice. Therefore, I'm not alone anymore. For I've been tried and tested across the (inter)national waters.
In my recollection, only a few Africans (particularly the older male writers and scholars like Chinua Achebe, Wole Soyinka, and Ngugi wa Thiong'o) are established in such high pedestals in American universities). Now I see me standing on that coveted panorama––albeit a near tabooland, and rarely the privilege of African women in the Euro-American academy.
But because I, too, in the lonely acts and scenes of my own creative cocoon, until now, have been undergoing the requisite audition for the job with the challenging job description that I've been assigned now. I see the tantalizing tight strings attached. I see them, and sigh deeply to fill up my limping lungs for the bigger journeys ahead. With the tolling bells, the billion and more ears tuned, sifting through and weighing every word I utter or write, along with those myriad eyes riveted and beaming on me now, I feel the spotlights illuminating and prodding me onto the feverish national and world-stage. And am I ready? Yes!
Indeed, for well over two decades, through numerous creative contributions in the revolving global public stages and academes that I've been privileged to experience and serve––striding through it all and ignited with my vision of the world as a "global classroom," I've been undergoing the requisite audition for the challenging (new) job description that I've been assigned now: as a kind of Global Ambassador.
With the blazing new barge of honour, I feel armed with the Truth and knowledge as I march on to possible uncharted territories, breathing with my hand, drumming with my pen, and knowing that words are coals on fire.
This way, I write: to kill silence!
You certainly have been on a long journey to the arena of global letters starting from your native Nigeria. When you look back, what do you see?
I see me –– a child of Faith––trying to make me a miracle from a pinch of salt. In a way, I've been the proverbial Tortoise without wings, striving slowly, steadily, but surely up from my peasant roots in the Nigerian Delta to the hilltop, and believing that "I can 'fly'. I know it now: the Tortoise, too, can fly––if she truly invests the time and effort! Now truth is naked, and I cannot but behold it in its startling dimensions. I look back and I see me unfolding like the rose bud, blooming out of season in the midst of thorns.
A young a mother of five little children in 1985, I found myself deliciously stunned and thrust in the glare of the critical national limelight, when my play The Desert Encroaches won the Association of Nigerian Authors (ANA) drama prize that left me aglow and vulnerable in the spotlight. Then in 1988 two of my plays––The Broken Calabash and The Desert Encroaches––were selected major features on the respective American stages at the First International Women Playwrights' Conference in Buffalo New York, and the Bonstelle Theatre, Detroit in a collaborative performance of the Detroit Council of the Arts and Wayne State University theatre, directed by the acclaimed Dr. Von Washington. That spectacular landmark lit open, yet, an unexpected fortuitous spotlight for me to win the Martin Luther King, Jr./Caesar Chavez/ Rosa Parks Distinguished Writer/Scholar award that propelled me into becoming a resident in America.
Then 1993 would offer its own luminous confetti––when at the age of 38, I was concurrently appointed as Distinguished Professor of Cultural Diversity and Full Professor of English at the University of Wisconsin. An enticing rich menu of speaking engagements in the US and Canadian universities would equally accompany these developments as the knowledge and publicity for my work began to unravel.
International stage productions of my work have become an increasing reality as well. Among them was the production of my drama The Missing Face, which was selected in 2001 as a featured production of the New Federal Theatre with the renowned Woodie King, Jr. as the Producing Director.
Then in 2007, the US State Department took a remarkable step to appoint me to the State Public Diplomacy Speaker Program for North, East and West India. 2007 would also flatter me with the stage production of my socio-political allegory Parables for a Season on the international arena of Khartoum, Sudan. Other plays like Tell it to Women, Shakara: Dance-Hall Queen, and Then She Said, would not only assert themselves on stage, but also march on in their respective aesthetic capacities to win the Association of Nigerian Authors (ANA) drama prize in 1995, 2001, and 2003.

In the 2004 and 2005 fall season, the BBC produced and broadcast my play Shakara: Dance-Hall Queen as a main feature for the BBC World Service in drama.
Then came 2009 with its garland of the prestigious Fonlon-Nichols Literary Award. The glamour would persist with the accompanying 2009 Tess International Conference––"Staging Women, Youth, Globalization and Eco-Literature, which was solely focused on my work and in my honor.

2010 would top it all. First, it arrived strutting with the tantalizing Shakara: Dance-Hall Queen, now not only translated into the Hindi language, but was also being featured on stage in the famous international Indian Khatakali centre with the concurrent English version of the play performed in New Delhi, India.
Finally 2010 pulled it all into a peak with the announcement of a Named Position in my honor as the University Professor of Global Letters at the University of Wisconsin. What else could I ask for in my profession?
The above roll call has marked some of the significant highlights in my career, with so many other unnamed significant imprinted landmarks I have earned, and all culminating in my present crown as the University Professor of Global Letters––a position that was exclusively created and named for me.
In sum, I have every cause to praise the Creator Almighty God of Excellence for the mercy and favour. To God Be the Glory! For indeed, I've been on a very long journey. Climbing hills, very steep hills––all the way from childhood trudging through scorching farmlands and the watery nose of Iyi Ada stream, in my delta motherland, and on to the thorny marketplace of "Ameri-Nigerian" academe––to arrive at this cute vista for an ultimate destination. What a joy as I look back, counting the (in)visible miles behind me, the roads (not) taken, and yet, looking ahead to step into new frontiers of possibility in the local and global landscapes!

And, looking forward, what more mountains are there for you to climb?
There'd always be new mountains to climb high up in the world outside here. But growth is not, and should, not always be upwards or outwards, but could be inwards and spiral. At this stage in my life, having raised five successful grown up children in a foreign wilderness with the help of the Almighty God, I should be growing in a different direction; that is inwards, and back to the very heartland of my home. So the one mountain that I know I must climb now is Nigeria.
For no matter what, Nigeria is the only land we've got and own. Nigeria is the one Motherland I have. And I must act, like the "grown up girl" that I am now, and as a true Nigerian daughter––born, bred, buttered (and battered, maybe!) by her, too, to rise up to invest my own hand and heart with my diverse Nigerian kindred committed to cradle her back to life and beauty. No doubt, our motherland is in great disrepair and needs caring hands to nurture her back to life and beauty.
As a frequent visitor around the world, I squirm as I hear of my own country Nigeria often named in the same breath with the shame of undesirables: corruption and greed and rot and decadence and violence, etc. In the face of such ugliness, it takes so much courage to stand tall and be counted as you beat your chest out there in the accusing eyes of the critical world, to proudly claim Nigeria as yours. And yet, I do! For I strongly believe that NIGERIA CAN BE BEAUTIFUL, if we (Nigerians), truly desire her to be.
I doubt that the "re-branding" mantra can do the magic. But how can we re-brand garbage and then hope for a better Nigeria?
Sure we can whitewash garbage. Mask it. And dress it up to look pretty. And even deodorize it. But when the soul and body stink so foul as it does these days when our most cherished values rot and sink, now how many barrels or metric tons of the almighty scented and perfumed crude oil must we siphon and spray to erase the noxious anti-social stench? And to survive and renew the self, Nigeria needs not just the urgent sanitizing and deep cleaning from within her soul to manifest in her outward body polity, but also the immediate blood transfusions of new ideas, new visions with the crucial insights from her committed sons and daughters who enrich other nations with their (un)common talent and knowledge, in order to help revive, renew, and nurture her back to the life of beauty and excellence. For me now, Charity Must Begin at Home: Nigeria! And so that new mountain I must climb is my home: Nigeria! Perhaps, we all should!

Your work has certainly had a huge impact on global culture. But even at that, there is still a huge challenge how people truly understand one another, especially with so much conflicts around the world. Has the humanising impact of literature done much to mitigate such challenge? What more can be done?
Knowledge and awareness do open up walls that limit the scope of our envisioning and perceiving the world. Like the watery wide mouth of the Atlantic sea, it should open up the vast space for one to see and feel and appreciate the world. And just as one cannot measure the humongous amount of water in the Atlantic Ocean, it would be uncharacteristically presumptuous of me to claim that "this is how much the humanizing impact of literature has mitigated global conflicts and challenges. " Like the flowing currents of water in the ocean of knowledge seeping or percolating inside my creative work, where I'm consciously committed to sensitize my world with whom I'm in virtual conversation, what you're asking me, therefore, amounts to my telling or naming the exact volume of water in the Atlantic ocean. And I cannot.
But what I can say, however, is that literature can show/tell, not just what is, but what can be––in terms of possibilities and limitations in our world. It is much like injecting a stimulant potion, or sowing the nuclear seed of change and transformation in the right direction. Thus the enriching mineral contents of it all can and do tone or temper the heart and soul with acute insight and possible action. In my creative drama, I find me journeying to people. I'm journeying into new ways of seeing, new sights, new ears, new eyes, new mouths, new voices. The confluence of it all keeps my world growing bigger, and larger. And my profit? I feel larger and better. For my audience is no longer just Nigeria. My audience is not just in Africa. My audience is global. The issues I'm dealing with are global. The subjects are global; they are real: the poor woman in Jamaica, the poor woman in Nigeria, the poor woman in India, the poor woman in Sudan. And all around, the youth that is struggling to find a job or to find his or her voice in any of these—in America, in the inner-city Chicago and Nigeria.
And so, theatre tends to bring about immediacy of response and interaction. And though there are walls that inhibit the message from going beyond, it does travel far into the mind and seep into consciousness, despite its limiting encumbrances.

You are quoted as saying that American students don't care much about other people's cultures except their own. How much of a task was it for you when you introduced them to African writing? Has that attitude changed much?
That statement was extracted from what I said in 1993 when I'd just begun my assignment as the first Distinguished Professor of Cultural Diversity at the university of Wisconsin, where I've now served for eighteen years as a full professor. So it's been quite a while, and the contexts keep shifting as the world grows and people try to learn from valuable insights––and especially now in our emerging "techno-crazy" world of "twitters", Facebook, YouTube, and Vimeo, where images and information seem to travel faster now than the speed of light. No doubt, the learning community I met then has come a long way, to grow new insights, and will continue to do so.

How much of African culture is permeating the outsider world in view of the onslaught of global culture on the African culture, which is threatening to assimilate it in spite of efforts from scholars like you?
A lot! The question should not be what Africa has given to the world, but rather, what has Africa not given to the world; with the voracious appetite of those taking and consuming her world. For Africa has given too much already and still continues to give with neither acknowledgement nor thanks from her "takers."
Think of the millions of Africans forcefully uprooted from the motherland Africa to the white plantations in North and South America and the Caribbean. Though nameless, their sweat and blood built the monuments, the skyscrapers, the industries, etc in the new world of captivity. Those missing forgotten and unsung Africans with successive generations are the children of Africa, who gave the world pearls with chiming legacies that still remain muted. Intellectual giants and the undying voices of the likes of Bob Marley, Langston Hughes, WEB du Bois, Michael Jackson, Barry White, Luther Vandross, Martin Luther King Jr., Malcolm X, Isaac Hayes, Billie Holiday, Lena Horne, etc, are branches of those children of Africa giving their word and tune and mood and heart to heal and keep moving the heady life and wheel the world forward. The children of Africa gave the world Jazz and Blues and Soul and Reggae, and Rap and more. Need I name more, for the list is inexhaustible?
Then there are those other waves of Africans–– volitional and willful laborers and nation builders, I tag them––migrating to the Americas, Europe, and the western world in general, to toil for better opportunities that grow and make the western world swing.
And then these days when the world is "drunk" and married to the sweet crude oil which the trans-nationals siphon from the belly of Africa –-e.g. Angola, Egypt and Libya (now burning and in tatters) with the Nigerian Niger Delta––and leaving the indigenous rural communities empty, polluted, and naked with the bleeding land, while their sweet crude products nourishes and shines the faces of the benefiting Euro-American worlds, Africa still continues to drain and give her soul and body to the outside world.
But do we in Africa, truly know and remember all these? Do we have a common collective vision of us, our historical pasts with our interconnecting identities and struggles and challenges that could be mobilized to affirm us as a people and give us a voice with strength? No! We are busy, instead, mired in aping the west. We are recklessly ruining and forgetting what should mean everything to us––our values––as we fight and kill one another in the name of religion and power and money. Like crabs in a bucket, we claw each other down in Ruanda and Nigeria and Libya, and Liberia and Sierra Leone and all over. When will Africa/Africans (and Nigerians most of all!), ever learn that "united we stand, separated we fall? That our diversity should be our beauty and strength? That the founding fathers and mothers of black independence and civil rights––e.g. Nkrumah, Zik of Africa (not just of Nigeria!), Garvey, Du Bois, etc, invested their lifeblood and talent and voice in crusading for that empowering Pan-African ideology and vision as the tablet of hope for Africa in the onslaught of the rabid western capitalism, materialism, and individualism that kills the many to enrich the few? The absence of a vital collective awakening and knowledge has since left the African world in fragments, with pockets of rival ethnicities battling to facilitate the imperial agenda and exploitation of Africa with her dismembered family, flung far and wide to the vicious whirlwind and with the hurricane of globalization and its viral "poly"tricks? If only, we'd revision ourselves, consciously rewrite our present and past for a future of collective strength and prosperity, what will Africa not do? What can Africa not do? "And who can, dare, to mess with us?"
I'm so passionate about these nagging issues and questions that I've devoted such plays as The Missing Face, Riot in Heaven and Parables for a Season to the smoldering but muted matters.

What is the biggest challenge you face in your work of propagating African culture on a foreign soil? And, is the news back home (Africa) enhancing or hindering your efforts?
Ironically the biggest challenge I face in propagating Africa either at home or on the foreign soil is Africa and Africans themselves. It appears that much of our people have lost faith in themselves: in who they are as a people, as they scuttle and drift around to be this or that, and be everything else but themselves. It's as if they're ashamed of their own skin and hair and their African identity.
Just look around you now and tell me what you see at home and on the streets of Nigeria: parents and children in their very homeland who cannot speak their own mother tongue and local language as they're so busy aping the white man's tongue; the straight long wigs or weaves like bizarre bird nests on the heads of women, young and old; the binge for (Tokunbo) items born or bought abroad––so much so that anything local appears to have lost or be of no value, etc. So you see how foul it feels to be a crusader promoting Africa/Nigeria abroad when Africa/Nigeria is fast dying right there at home, and nobody seems to even notice or do anything about it? That is the dilemma.
And it causes a measure of ambivalence. In the sense that I feel this need to celebrate and support and love Nigeria, but then there's also this feeling of––let me put it quite crudely. It is like you have a beloved one that is capable of so many things and has such great potential. But you find that this beloved person is so self-destructive—and on a suicide mission.
Nigeria has been on a suicide path. And you think every moment it's going to collapse. It's about to, really, take the plunge.
But it also has such incredible resilience. And somehow, even when it is just at the precipice—on the verge of that collapse—somehow, there's something internal, magical that just happens to let the nation totter on the edge and in coma, indefinitely.
What amazes most is really the resilience of the masses. And they're so forgiving. They have such a large heart. It's like they're being ever stretched to the very limit, and even the littlest beneficial anything is a welcome miraculous intervention that enables them to endure.
And they have inexhaustible hope. And so I identify with them, because I feel their pain in that way; because I have been there. And I am not far away from there either. I am still there, even though I am not physically walking and living in that space. But it is even more painful when you are outside. And there's that something—another body––that inhabits your soul and lives within your soul. And you are in conversation within your soul with this beloved that is in pain.
So it's that helplessness you feel to see so much avoidable pitfalls and wrongs. It pushes you to a point of anger as you're in a constant battle with your beloved.
Though orbiting outside, Nigeria has really been the life force driving me. And when I work anywhere, I pound the earth, because I have Nigeria in me. I have Africa in me. And I live it and I wear it and I breathe it. Nigeria/Africa is not just there—in some space somewhere. Nigeria is not another space or place. It's in me. It's me. I'm the embodiment of it. And we are: Nigeria! And though people may say, "Oh, but you left Nigeria long ago––two decades?" In body, yes! But in spirit? No! ? I never left Nigeria or Africa! And never will. For how can you leave behind what lives in your soul, inside you, inhabits your mind, and is a permanent resident in your heart? How? If I did leave, Nigeria/Africa didn't leave me. No! Nigeria didn't leave me. Nigeria lives in me; as a permanent resident of my heart and soul. I have never left Nigeria. The fact that I crossed the Atlantic to take a journey doesn't mean that I'm no longer what I am or who I am. I've grown bigger and larger in terms of my ways of seeing things with myriad perspectives. What results now it that my world is larger than it was. I see the world from a much bigger prism. I also see the possibilities, and how, if only we could put our own (Nigerian and African) act together, our nation and race can. And we can!
We keep trying. Like Shakara's mother, Omesete, says to her in Shakara: Dance Hall Queen. "Try. Try. That is my anthem. The anthem I have learned from life." When you try, you are striving to better, to improve, and to perfect. And what may be perfect this moment—perfection is not a fixed quantity––is for today's circumstance, and not for tomorrow. Because other challenges, other imperatives intervene. And then you have to find a new form. You try to strive for a new form of perfection to deal with the problems of tomorrow.
Unfortunately now, it just seems as if our people have lost the capacity even to dream of perfection, and to strive for perfection. And so anything goes. "Oh, well, you know, that's the way it is. It's the Nigerian way…the Nigerian factor." Nonsense! What is the Nigerian way or factor? I've known Nigeria to be so much higher than it is now. The same society used to be so much more sane. Now sanity is lost. And then you say, "Well, okay. It's the era. It's a lunatic state." And my answer? People can cure lunacy, too! Nigeria/Nigerians can. And they do have the cure to that lunacy, if only they'd commit to curing it. It's not an impossible situation. Look at Ghana next door. In the seventies, Ghana was a dusty state in a big rot like Nigeria is decaying now. The kind of situation Ghana was in at the time—and Ghana didn't have the resources that Nigeria has. In the seventies when we had "Ghana must go"— Ghana at that time was really down on her knees. But something happened. Leadership. And it was bloody, but it was a bloody sweep that wasn't a flash in the pan. There was a sustained effort to strive to clean up, to strive to reinvent hope by and for the hope. And it didn't take one day, it didn't take two days, it took sustained effort. So even after Rollins left as military president it just seems like the momentum is there and the cities and government that have succeeded, have continued to strive to improve on that—or at least maintain that. But in our own case in
Nigeria, it's like we go one step forward, and tens steps backwards. And a lot of that has to do with leadership.
But we can't always just blame the leadership, also. We, the citizens, too, have to take responsibility for the rot. Because if the government—the president is not going to come to your yard to tell you to come and take out your garbage. It should be your effort and responsibility. The cleanliness of the homeland is a value that we must have and should always strive for. And it becomes part of the daily commitment that we share. It's simply not just enough to make money, but you are sitting in pretty dirt and living in dirt. So, you can't always blame the government for the messy garbage. What is your role as a citizen? What is the citizen's role in the (Nigerian) mess?
The truth, though, is that the blame can be shared. People should demand more from, and expect more from themselves and their government as well. It's like in any relationship; of love, for example. It's not a one-way traffic. It's a two-way traffic that each party has a part to play in for it to succeed. And if you don't play your own part, and you don't function, then everything just falls apart. So, it's a love affair between two entities that don't trust each other—should one expect much from the other?

In November 2009 the Tess International Conference was held exclusively on your work as a global educator, writer, and scholar... What was the high point of that gathering for you?
Everyday. Every moment of it was special in its own way. To see and interact with all the scholars gathered from around the world with so many media personnel reporting and interviewing here and there. Then there were the stunning performances of my play The Reign of Wazobia by the drama department of Abuja university and the performances of the Ahmadu Bello University, directed and led by the indefatigable theatre lover, Steve Daniel.
Then came the inauguration session with dignitaries like Chief Audu Ogbeh, Dr. Madubuike the former minister for education, who graced the occasion. In particular Chief Audu Ogbeh and his adorable wife graciously staged a memorable banquet in my honor at their lovely home. Could I ask for more? I'll ever remain gratefully indebted to the patron scholars with influential elders investing in such remarkable ways in me.

While you are an acclaimed global literary giant, your stature at home would seem to have dimmed a bit over the years in your stay abroad. Are you considering a project back home in Nigeria?
You may be right, especially since the publication of my creative works in the last two decades have been migrated and remained predominant overseas with me as well. But with the increasing persistent demands for my work at home, Heinemann Educational books in Ibadan––who incidentally published several of my earlier works in 80's–-is now in the process of publishing new editions of some of my plays.

Do you have plans to make your works widely available and performed in Nigeria?
Yes. Hope is on the way. Please, see my answer to the question above.

While foreign universities and their students reap from the ever fertile minds of African scholars like you residing abroad, universities back home have continued to suffer. Would you consider returning home to help raise falling standards?
Most certainly! It should be a welcome assignment, for now is the time to give and nurture the tired and abused motherland. Though she may stumble here and there, I am still that incorrigible believer in the Nigeria nation. In my eyes, Nigeria can fly. She, too, should see herself as the proverbial Tortoise that can fly. Nigeria Can Fly. She's that nation that Can; if she pleases and strives to beat the many odds stacked up against her future. For no matter what, no matter how decadent and retarded her progress maybe now, Nigeria can fly high up to take her rightful place as a leader on the global stage. That is…if…only if…she chooses the course to mend her crooked ways and fly right and straight. And more so, Nigeria can, if…she'd open up the stuffy room to let in new blood to let her breathe fresh and grow.

Is it still possible to impact local universities in Nigeria while still doing your work abroad?
We tend to make our impact in varying degrees. Right now my creative works do form the subject of doctoral dissertations, theses and books not just in the Nigerian but also in universities in India, the UK and Europe, North America, the West Indies, and related African Universities. The 2009 Tess International Conference exclusively devoted to the critical studies and dialogues on my writing, brought together university scholars and teachers from around Nigeria, as well as the USA, Canada, India, etc.
Last year, in 2010, alone, I had the privilege and honor of being invited to see the performance of my plays produced respectively by the Nigerian Ahmadu Bello University, and New Delhi, India.
My work continues to be studied and taught as canonical texts ––in the area of global, gender, cultural, women, youth, socio-political, historical and environmental or eco-literature in major universities at home in Nigeria and abroad.
Long before I even became resident in America, my plays were already being taught as set texts by educational school boards in Bendel (now Edo and Delta states), Rivers, Imo, Abia, Ebonyi, Anambra, Benue, and even some of the western and northern states.
Before the new era of nollywood home-videos, my plays like Mirror For Campus, The Broken Calabash and others had already been featured in the national theatre in Iganmu, when that institution still had a lot of respectability. The domestic impact of those productions led to the Film adaptation of The Broken Calabash that was nationally televised as part of the artistic features for the Silver Jubilee Celebration marking the Nigerian independence in 1985.

Shakara, Dance-Hall Queen, The Missing Face, Parables for a Season are some of your plays. Which of them touches on the most important subject that is closest to your heart?
It's like asking me which of my five children I love most. Each one is a jewel in his/her own right. I'm just as passionate about one as I am about another. And each one has a unique meaningful value to me. Just as our polluted environment (in land and soul) scream in the landscapes of my plays like What Mama Said, Then She Said it, and
The Desert Encroaches, similarly the concerns and impacts of poverty experienced by Shakara's underclass family––embodying those left behind by the socio-economic poly-tricks of globalization–– nags mightily in that play and No Vacancy. And just as the monumental consequence of the fragmentation and dismembering of ties in the African and Diasporan worlds, as projected respectively in The Missing Face and Riot in Heaven, and Parables for a Season, should provoke the sleeping or dead conscience awake.

You champion female and youth causes in your work but with what particular slant?
Bittersweet, I'd say. Evidently my mood and tone keep modulating in response to the shifting paradigms transition in the changing reality of our world today. I'm chronically partial to the affairs and concerns of women and youths, who seem to have no voice or place in the dispensation of economic and social power. Hence I "write them" dramatize them, and stage a hearing for them in my work as the (forgotten) subjects and thus giving them to vent and voice.
In view of that, you might assign me to the left in the direction of the underprivileged and powerless. A fair location of my aesthetic and pedagogic slant. But to stamp or afix a vogue label on me would be a failed "rogue" act, since my work defies such labels and borders, as they straddle issues and concerns of the environment (in say, What Mama Said and Then She Said it), globalization and its inherent inequities (in Shakara, No Vacancy, and Ban Empty Barn), Africa and her Diaspora (in The Missing Face, Riot in Heaven, and Parables for a Season), along with the concerns of the poor, women and youth (in Tell it to Women, The Reign of Wazobia, Shakara, and No Vacancy). Until you can find that all-inclusive tag or label to fit in all the above, I'd jolly remain without those expected conventional tags, since my entire creative oeuvre or work is larger than any existing single label.
What I do hope, however, is that my work will, in one way, provoke a certain hunger in your belly. And in another, it should continue to serve as a poignant injection of ideas to sting the dying and soulless conscience of a skewed world-order––where the toxic effects of greed, money, and inequities instigated by the privileged powerful interests, reign supreme. Perhaps by deploying this piquant artistic vision, I could dare to prick and prod my world towards possible meaningful change for those willfully left behind in the "geo-poly-tricks" of power in today's rapacious and predatory "market culture", as the luminous Cornell West rightly brands them.

Has the image of the African woman changed over the years, especially since the days of Buchi Emecheta and Flora Nwanpa? What needs to be done?
We keep re-visioning and re-writing life and one another. Even me, personally, I often find myself re-writing, interrogating, and rethinking my own visions and positions as I encounter life experiences from varied vantage-points, and then shift or adapt the enriching ideas accordingly. Despite efforts to keep her standstill, the African woman is truly alive and kicking and seeing and loving and hurting and dying and growing and losing and gaining and all that any "sheman" being does in reality.
The African woman is not a piece of furniture that remains fixed and standing to be sat on by any willing behind, programmed to push up and down at will. No! The African woman is dynamic. She's a stream: she flows, with her own rhythms dictated by currents in the rise and fall of the tide. Like her world, the African woman is a viable product in the making. She's striving as time and tradition permits her, to reach her destination, attain her goals: happiness and fulfillment in freedom and equity. Should anyone grudge her those dreams?

You were once appointed to the US State Department Public Diplomacy Specialist/Speaker Program for North, West, and East India. What were your specific roles? How did that impact on your role as a global writer and cultural ambassador?
The Public Diplomacy Speaker Program is one of those cultural initiatives for intercultural relationships and friendship and communication done through the notable private and public academy and channels. No time in the recent history of the USA has this initiative been more cogent than in the recent seasons of war and crises in Iraq, Afghanistan, the re-invented Middle East, along with the testy ties between India and Pakistan. With so many real and imagined enemies swarming around the global space, such established public diplomacy programs serve vicariously as the US "preemptive" friendship massages, in a way, to provoke and cuddle peace in the designated restive (inter)national body.
The State Department does select influential writers, professional artists, who can help soothe the troubled waters in the restless worlds, as high profile friends (navigating the inter-state desires and person-to person friendships) in the form of temporal Cultural Envoys. The appointees embody American values–-so to speak–– in their charismatic mission and aura of interacting with the communities in the chosen country, to win "friends for America." So as a private citizen winning friends for America, I was vicariously sharing [and showing] the human side and human face of America, instead of the heavy gritty hands of America that opposing interests feel and fear often as they land hard in their soul and body. So with this subtle diplomacy programs hinged on culture, it's no longer just the government officials talking between governments. It becomes the ordinary citizens—like me—who have recognized established talents and contributions that can be shared with the people.
So India, for example, they get to see that human face of America and Americans that the TV doesn't show them. So, by having me go on such a mission—and appointed for a given period—it was an eye opener. It was an epiphanic moment for me in my career as a writer and as one who is not just interested, but very passionate about youths, about the masses, about the poor, about women.
I felt their heart and soul. It was a very intense program. I was a guest of the U.S. State Government and had diplomatic vehicles and personnel from the American Center take me around with the high-level officials to meet me. I was frequently scheduled for press conferences. Besides being the featured speaker/writer in universities in the vast landscapes of North, East and West India, I gave inaugural addresses at the international conference in the Indian National Center, in Mumbai, Calcutta, Jodpur, Bhubanashwar, etc. I did readings from my work, too. So I traveled extensively. Sometimes I couldn't tell where I was, because I might be in one place for two days and everywhere.
I had officials with me: program officers, and cultural liaison officers. Oh, how they and the people of India fell in love with me, and I fell in love with them! And those students, professors, and diplomatic officials! With the sizzling energy that came out of it, I've established some lasting friendships. I even encountered, to my utter consternation, graduate students and teachers who already knew my work and were either teaching, studying, or writing about them, to the extent that a had I had to give an unscheduled interview to an Indian graduate student who was writing her doctorate on my work. That visit opened up enduring channels that enabled me to go back to India, not just as a guest speaker/writer, but as a senior fellow in New Delhi and a Visiting Playwright /Dramaturg for the subsequent stage production of my play Shakara, just months ago in 2010. Apart from Shakara, which was translated and performed in the Indian Hindi language, other plays like What Mama Said, Riot in Heaven, and Tell it to Women are currently being translated into Indian languages, with more plans for possible stage productions.
I must confess that in a most unusual way, that exposure has impacted me tremendously. If I was Theorizing before, perhaps, I'm now actively practicing Theory as the experience has propelled me from the safe distant shores of a Theorist, into the committed engaging committed precipice of an Activist
Poor women and youths are real. And I don't talk about them as some fictional characters. Many are mired in real struggles just managing to survive as they do in the hot wilderness of America and Africa. The only difference is that the subjects are separated by massive distance.
But my drama—the manner in which I have used symbols to be able to allegorize and cut across to demolish all those walls that separate them, it just opens up a vast limitless space for negotiating the ideas and creating these dialogues.
I went to visit women in the shelter, run by the Vice-Chancellor of the university at Jodpur to house women who didn't have male children and who were being abused or rejected by their husbands or their parents, for being—they were just outcasts. Social outcasts. Economic outcasts. And especially with their not having male children. And they teach them to use their hands and teach them all kinds of handiwork. To weave, to sew, to do a lot, just to keep them alive and a sense of purpose, and a sisterhood. And they are very poor, but they are so giving. Oh, it just made me feel so empowered! And I saw ME in them! Even though I'm supposed to be a professor, I didn't see anything separating me from them, in that I felt enmeshed in their world. It was the familiar world I had been talking about, or searching for in my works. So I melted into the women. We sat on the floor, together. And we wept together. There were no chairs to hold that kind of crowd because of all had become one (knotted) heart and body.
Maybe it's because I've been a village girl. The village has never left me. So I became immersed. You can't pretend. You can't act this out. I felt like I knew them, and that I had seen them before, and that I have lived with them, and that I still live with them. So we shared. There wasn't anything separating me from them. And they embraced me. And we cried, together when they were sharing their own stories about how they were maltreated by their husbands, by their husbands' relatives, or even by their own families, because they were liabilities to their own families. Listening to them, I was listening to my own heart. I was listening and hearing the echo of my own pain, and the echo of many Nigerian/African women stories and narratives. It's one of the most powerful scenes that I will ever remember. And it's affected me, for life!

How will your new appointment as a University Professor of Global Letters enhance your work? What workload does it carry, and what new vision will you bring into it?
On a general note, I've since claimed the world as my revolving classroom and stage and will amplify my act and voice in the global arena.
But on a more specific note, I'll admit that my conventional classroom teaching workload is significantly less now than what other full professors teach. Besides the open opportunities for me to mount productions of my plays or any others that I desire, I can choose to teach any course at a time and venue that I want. I've taken a liking to the graduate level and senior undergraduate level courses in World Literature and Drama, where I'd like to pitch my own pedagogic tent for now. Where my teaching heart and love migrates tomorrow is what I cannot predict. And to echo Yemoja, the protagonist of play Tell it to Women (19957/97), affirms in that context:

Life is a Dance! To see it all, you not only have to follow the drumbeats, but the steps, the dance-steps in all its dimensions. And am I ready to Dance now? Yes! The floor is open, the land fast rising to my feet, and I want to Dance! I cannot but dance. And I cannot leave my dance to dance someone else's dance!